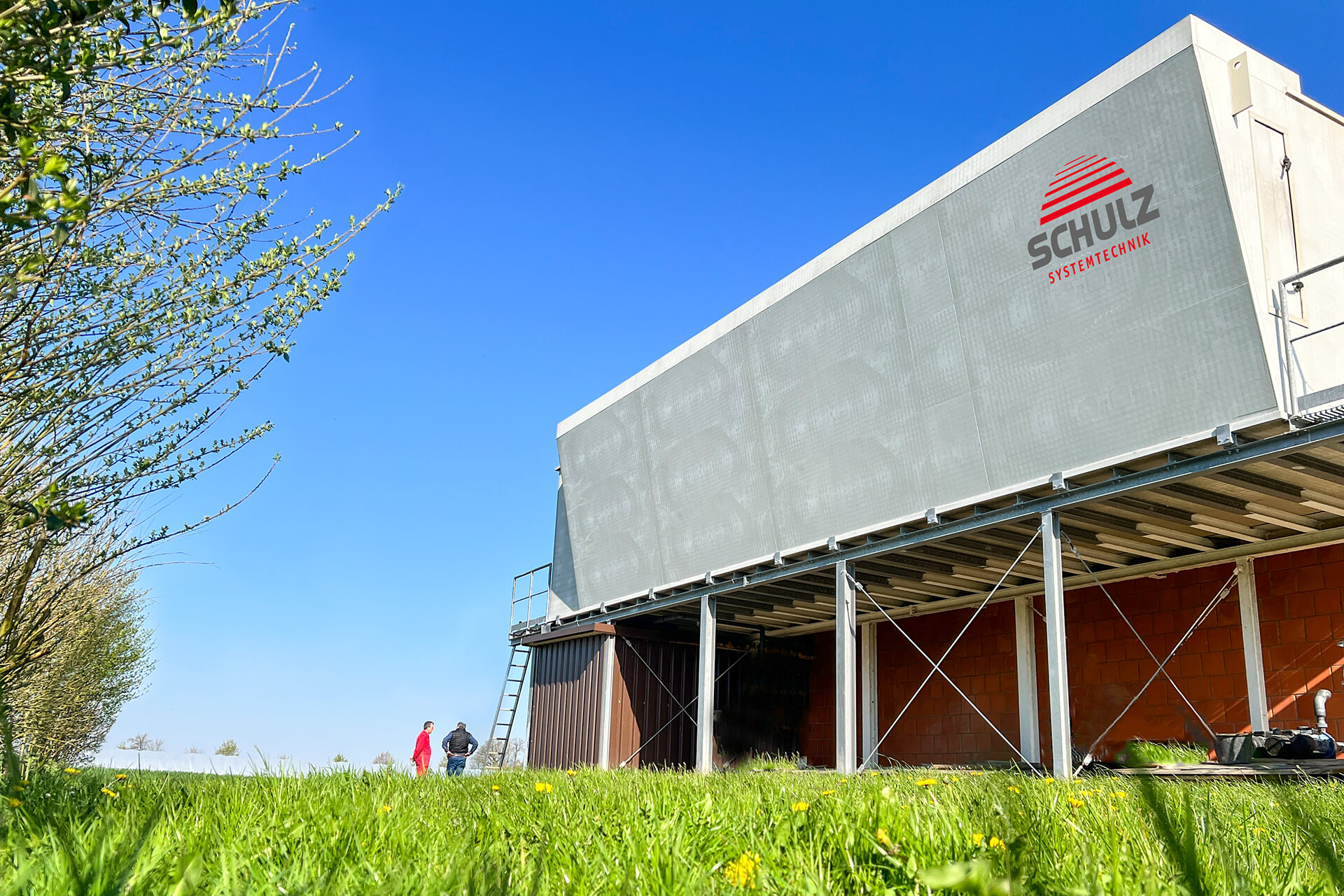 Compact and high-performing
The DLG-certified exhaust air scrubber for pig farming
UNIQUELY HIGH FILTER PERFORMANCE EVEN ON UTTERLY SMALL SURFACE AREAS: MORE EFFICIENCY FOR FARMING
The DLG (Deutsche Landwirtschafts-Gesellschaft – German Agricultural Society) has certified our new exhaust air cleaning system EMMI Pig for pig farming. This once again confirms the major role and efficiency degree of our technology in farming applications.
We have been involved in exhaust air cleaning for almost 25 years, developing high-performance and energy-efficient air scrubbers for poultry and pig farming as well as for other sectors such as the food and chemical industries, slaughterhouses and processing plants including fermentation residue drying and biogas facilities.
Due to the legally required application of the new version of the TA-Luft standard, pig farmers are faced with new, even stricter requirements. Exhaust air cleaning is essential, which is why numerous companies have to retrofit or convert to this innovation. The only problem is that exhaust air cleaning systems often require considerable investments due to their sizes, which endangers profitability – especially in professional pig farming.
This is precisely why we developed the EMMI Pig exhaust air scrubber. Its uniquely high filter surface load of 5,000 m³/(m²h) is causing a sensation throughout the industry. This impressive filter performance goes hand in hand with an extremely compact, space-saving and flexible design – fully in line with customised requirements. "This way, pig farmers can significantly reduce investment costs and enjoy greater profitability and efficiency," said our colleague Markus Wiese, an expert in exhaust air cleaning technology.
The system is a two-stage exhaust air scrubber operating wet chemically and using acid as well as downstream bio-scrubbing to remove dust, ammonia and odour by means of overhead ventilation. Downstream of both cleaning stages, a droplet separator minimises aerosol discharge during exhaust air cleaning as well as reducing germ discharge from the barn.
Its uniquely high filter surface load of 5,000 m³/(m²h) makes EMMI Pig especially profitable while offering a small, compact footprint. In addition, the exhaust air scrubber requires particularly low maintenance and has extremely low ongoing operating costs.

Markus Wiese, Project Manager Agricultural Technology, SCHULZ Systemtechnik
We are here for you


Your contact options