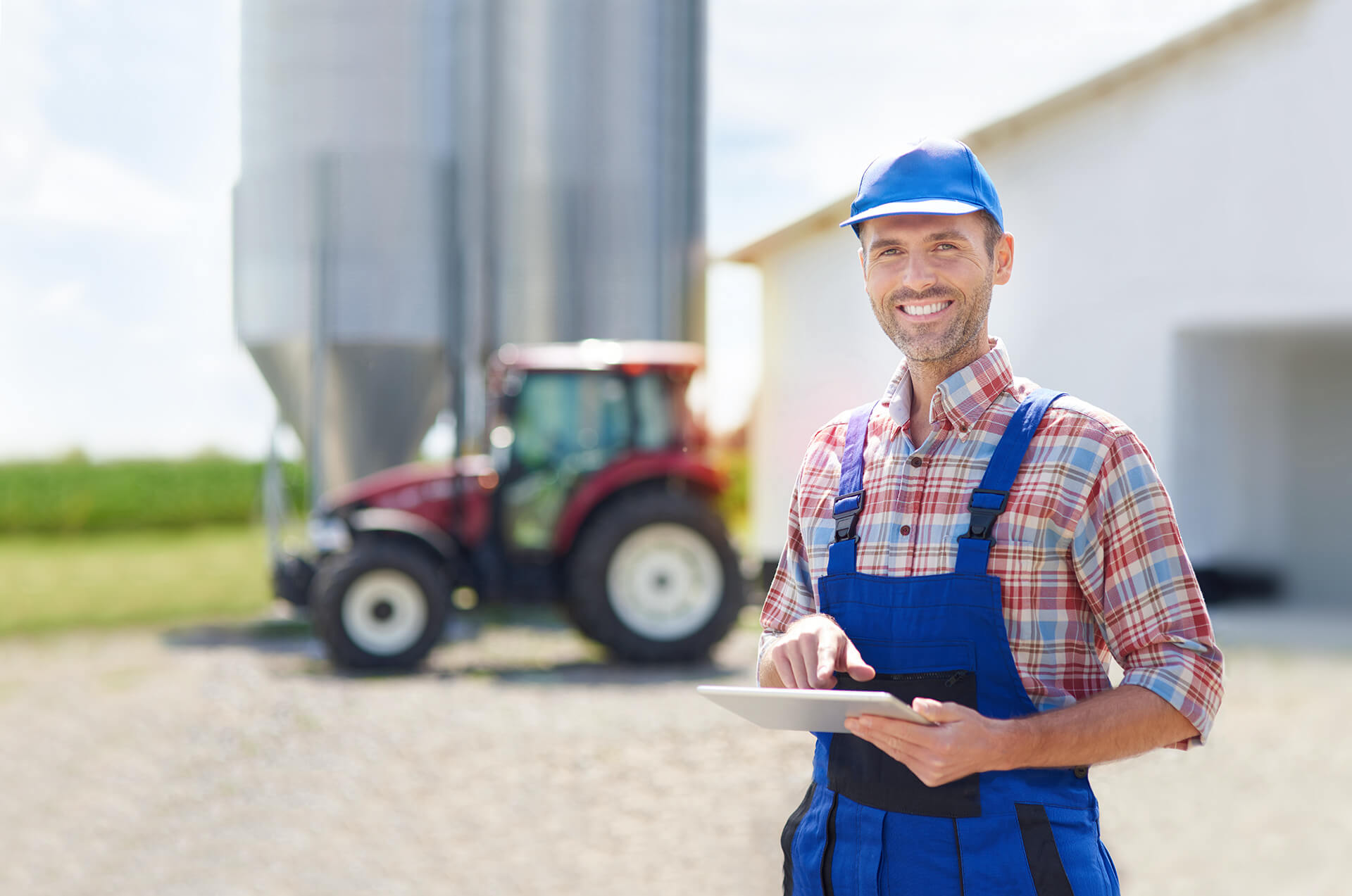 Automation of agriculture
Step up to the next level with us
How you can use smart technologies efficiently for the benefit of people, animals and the environment
SCHULZ Systemtechnik has been driving forward the automation of agriculture for decades. This is also the reason why today we can implement automated barn systems specifically tailored to your needs.
For agricultural businesses, we offer customised and complete solutions: from conception to realisation to service. In doing so, we use state-of-the-art technologies and always develop solutions with a view to the well-being of humans, animals and the environment.
However, cost-effectiveness and energy efficiency are just as important. The balance must be right. Our focus in the automation of agriculture is professional animal farming.
AREAS IN THE AGRICULTURAL SECTOR
We will be happy to advise you on the many optimisation possibilities in the various branches of agriculture.
The barn management system of the future: AgriFarmControl
Gone are the days when you had to operate a separate controller for each stall unit. With AgriFarmControl we combine all control technologies in one central system. All necessary parameters are optimally coordinated with each other.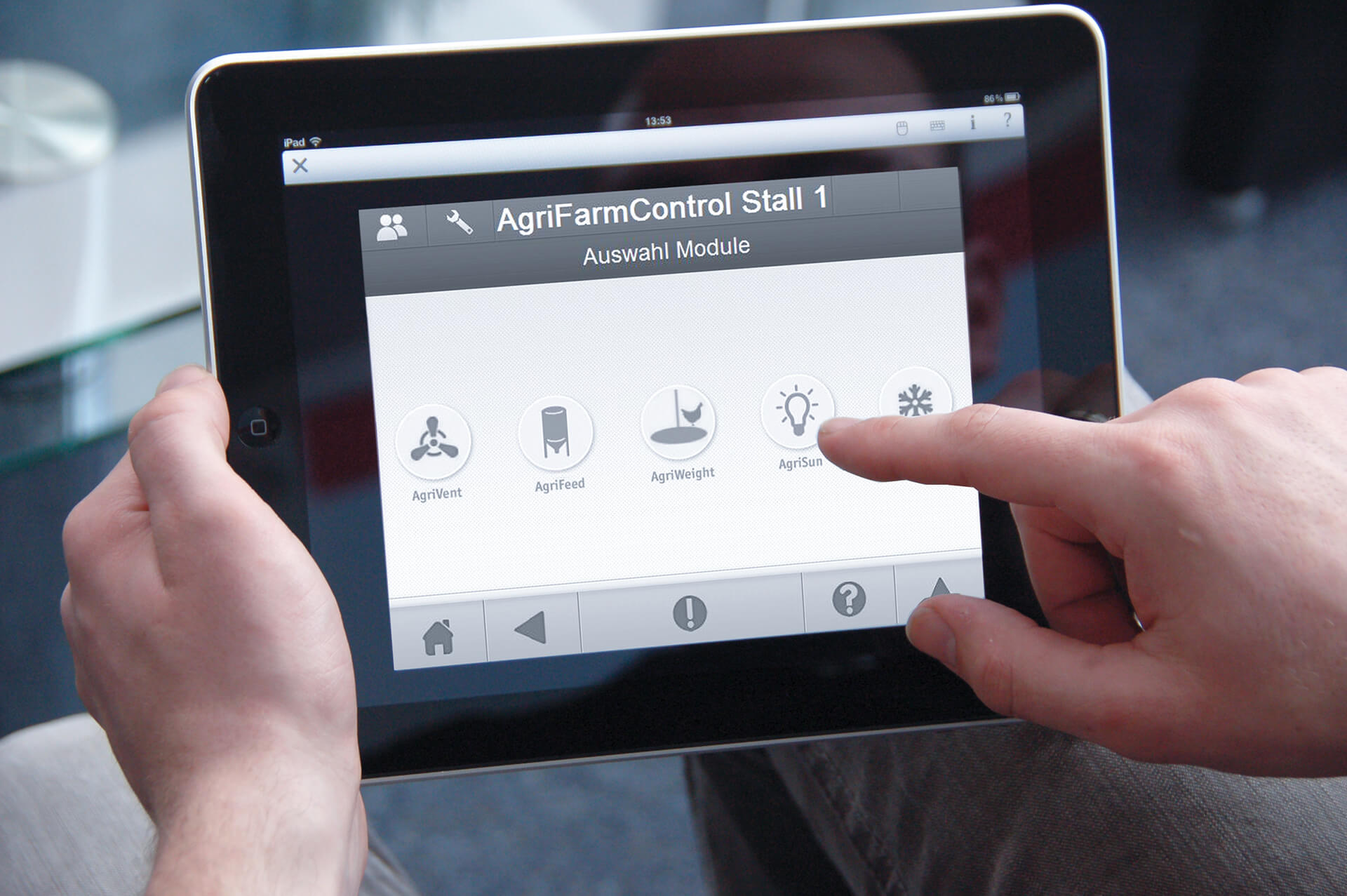 We take into account both the respective age of the animals and the current environmental influences. This allows you to achieve optimal husbandry conditions and yields. This even works when the farmer is not available – completely autonomously.
Always flexible with our modules
Thanks to our module updates, we can integrate new legal regulations or extensions into the existing barn system at any time – and without a new investment. With our barn management system, we create a perfect link between the requirements of modern animal farming and the advantages of automation in agriculture.
Just like a modular system, AgriFarmControl will be equipped with various software modules. These include the following applications:
AgriCool
AgriEnergy
AgriFeed
AgriSun
AgriVent
AgriWeight
Individual modules can be customised and expanded at any time – perfectly in line with your needs.
Simple operation with touch system
Our modules are designed to be easy to use at all times. The entire system is located on only one touch panel.
This user interface is – regardless of the animal species – child's play to operate. In addition, intuitive symbolism ensures guaranteed simple modular control – even via mobile devices such as smartphones or tablets.
Future-proof set-up
Whatever happens, whatever changes – your system remains the same and is still always up to date. The following features ensure this:
Intuitive user interface
All data can be retrieved at any time, regardless of the location
Intelligent preparation and transparent planning by analysing, processing, evaluating and optimising existing operating data
Modular systems with standard products and upgradeable expansion modules
High innovative strength through industry diversity and strong manpower
Continuous further development and regular updates of the modules
Operation via mobile devices possible
Our high-performance standard hardware will continue to provide the necessary intelligence for the ever-advancing automation in agriculture tomorrow. This makes you more than ready for the challenges of the future.
This is how our barn management system convinces
With AgriFarmControl you benefit from numerous advantages:
Greater profitability due to the time saved
Better conditions for animals and staff in the animal housing facilities
Up to 20% energy costs savings
Integrated energy management will allow you to reduce power peaks, increase self-consumption, and minimise service and maintenance costs
Enhanced animal welfare through improved air and barn quality and thus increased growth rates
Cost-optimised resource planning
Investment safety
SCHULZ Systemtechnik takes your agricultural operation to the next level. But we are going one step further.
REFERENCES IN THE AGRICULTURAL SECTOR
OUR SERVICES IN THE AGRICULTURAL SECTOR
Choose the right service and make your business fit for the future.
Reduce costs further with AgriManagement
An ideal complement to AgriFarmControl is AgriManagement – a higher-level management software. It allows you to record all data, even from several AgriFarmControl systems, for their evaluation in a targeted manner. On the basis of the measurements determined, excellent parameters for barn management are then identified.
Integrating upstream and downstream process steps is also possible. Manufacturers and processors can thus benefit from better planning and faster response ability resulting in significant cost reductions. Farmers will also profit from this when making purchases.
Use automation in agriculture now
In addition to professional poultry farming, pig farming and cattle farming, we are also active in the feed industry, the meat processing industry and in handling and logistics companies in the sector. In addition, there is the specialist area of biogas for the production of renewable energy.
In this comprehensive field, we solve tasks in the field of automation in agriculture automation on a daily basis. Are you at home in the agricultural business? Then you can benefit from end-to-end solutions within the entire value chain and achieve many cost advantages through synergies. Take us at our word and contact us today.
NEWS ON THE AGRICULTURAL SECTOR
We are here for you


Your contact options